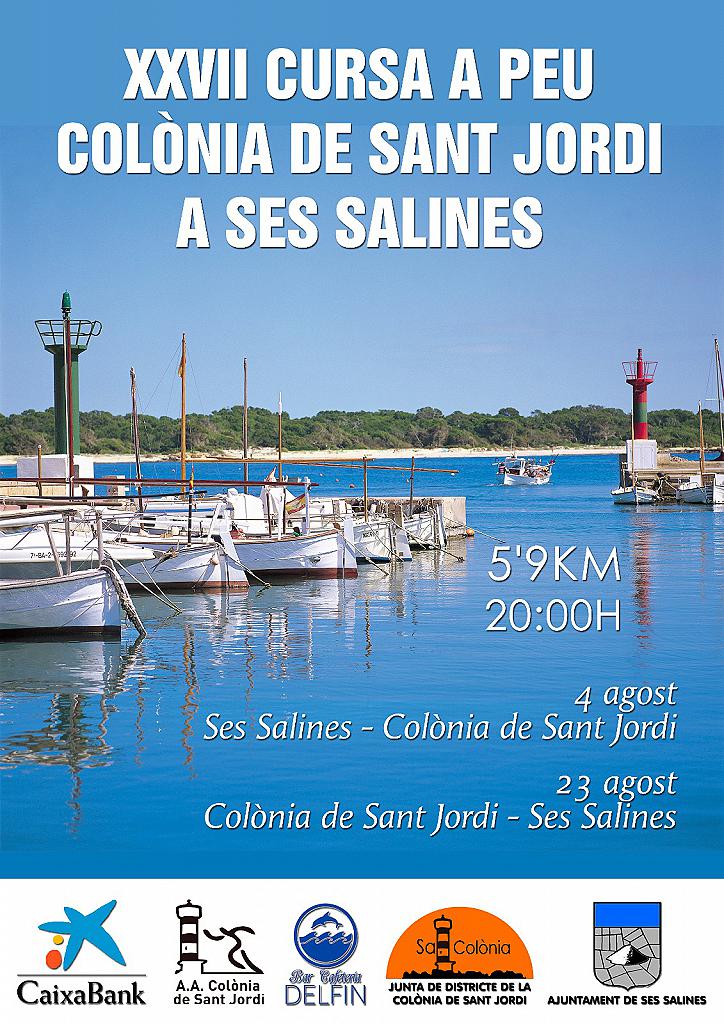 XXVII CARRERA A PEU SA COLÒNIA DE SANT JORDI A SES SALINES
DIA 23 DE AGOSTO
Recorregut - El recorregut de la prova serà entre Colònia Sant Jordi a Ses Salines, aproximadament 5,9 km.
Categories -
Les categories de la cursa son les següents:
Categoria Sub23 (Masculí i femení) de 10 a 22 anys
Categoria Senior (Masculi i femení) de 23 a 39 anys
Categoria Veterans M-40 (Masculí i Femení) de 40 a 49 anys
Categoria Veterans M-50 (Masculí i Femení) de 50 a 59 anys
Categoria Veterans M-60 (Masculí i femení) +60 anys
Categoria Atletas Locals.
Categoria Absoluta.
Trofeus i obsequis. Es donarà un premi al guanyador absolut femení i masculí. Premi per sorteig entregat desde la associació de atletes de la colònia de Sant Jordi.
Inscripció
Les inscripcions es realitzaran a travès de la pàgina web www.elitechip.net fins el dia 22 d'Agost a les 22.00. El preu de les inscripcions serà de 7 €. (els atletes Empadronats* a ses Salines tindran un descompte de 3€) També es podran inscriure presencialment fins a 1 hora abans de la sortida.
* Els atletes empadronats tindrán que acreditar-se amb el corresponent certificat de resident.
Cronometratge - La cursa serà cronometrada per Elitechip, Si no disposes de chip propi, podras llogar-ne un, el preu del lloguer son 3 €. També el podras adquirir-ne un chip groc per properes curses. Es obligatori portar el chip a la sabata o en el tormell per poder sortir en classificació.
Warning Elitechip Queries!
Elitechip is not constantly checking Facebook conversations. If you have any questions or queries regarding the competition or other issue, please use the
Contact Form
so we can reply you in the shortest possible time.