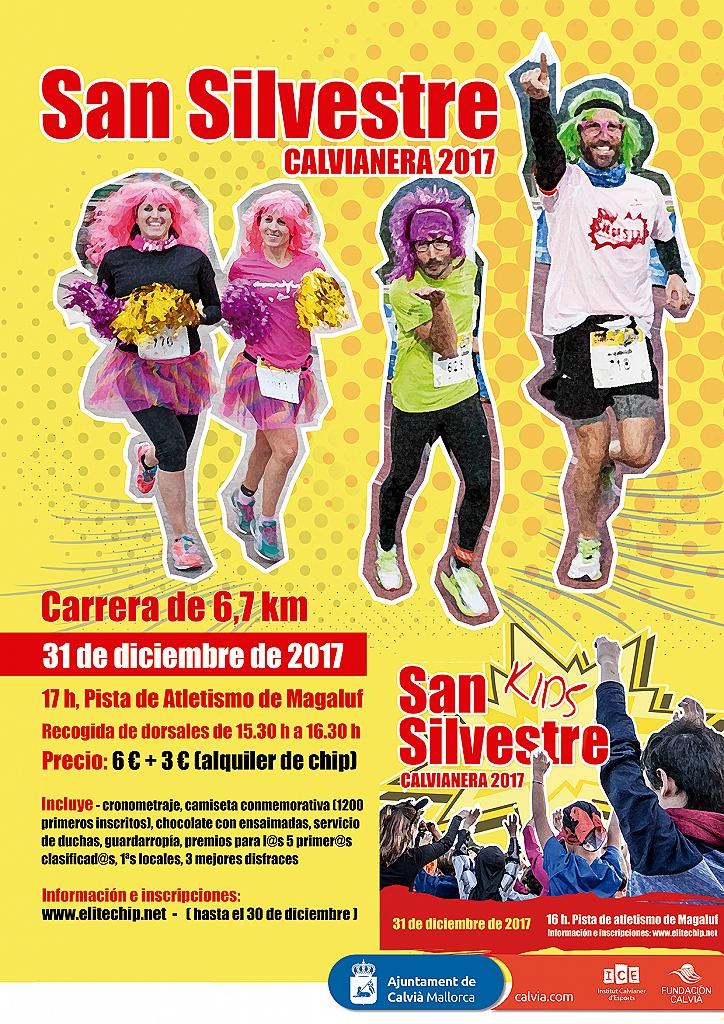 III Sant Silvestre Kids de Calvià
31-12-17 / 16:00 H
Pista d'Atletisme de Magaluf
Día de la carrera: 31 de diciembre a las 16.00 h
Lugar: todas las carreras se desarrollarán dentro del recinto de la Pista de atletismo de Magaluf
Día límite de inscripción:
Inscripción online: 30 de diciembre a las 23.59 h
Inscripción día de la prueba: 31 de diciembre de 15.00 a 15.45 h
Precio de inscripción: 0 €
Recogida de dorsales: 31 de diciembre de 15.00 a 15:45 h en la Pista de atletismo de Magaluf
Categorías y distancias:
2012 y posteriores: 200 m
2008 – 2011: 400 m
2004 – 2007: 600 m
2003 y anteriores: 1000 m
Recorridos: Pista de atletismo
Actividades paralelas: circuito de juegos deportivos del Consell de Mallorca
Premios o regalos: medalla para todos los participantes
Avituallamiento: merienda para todos los participantes
Organiza: Ajuntament de Calvià, Fundación Calvià
Colabora: Consell de Mallorca, Ada Calvià, Mesclat Esports, Coca Cola
Y para los adultos… ¡la San Silvestre calvianera!
Warning Elitechip Queries!
Elitechip is not constantly checking Facebook conversations. If you have any questions or queries regarding the competition or other issue, please use the
Contact Form
so we can reply you in the shortest possible time.