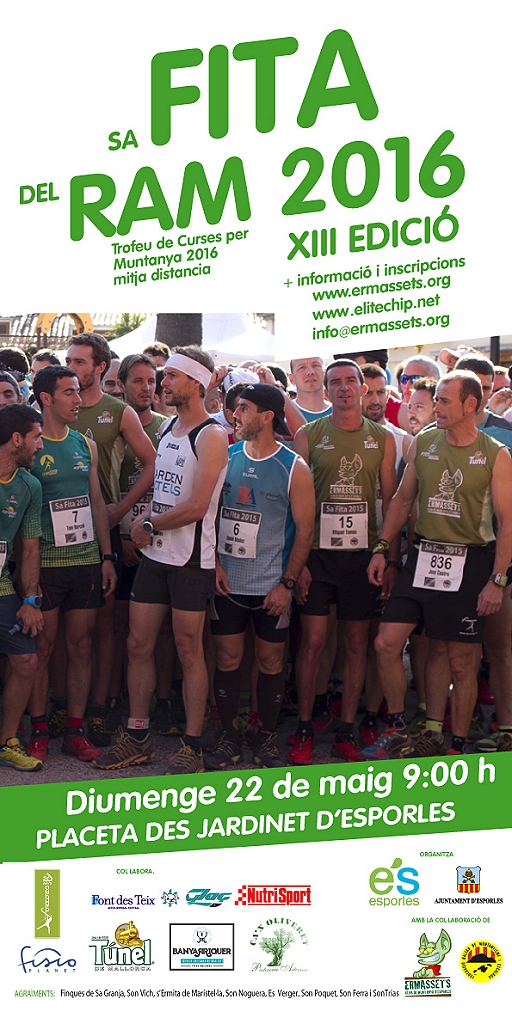 XIII Pujada a Sa Fita Des Ram
Data 22 de Maig de 2016 a les 09:00
Copa Balear de Muntanya
Recorregut 16Km
Desnivell positiu 1050m
Inscripcions, el dilluns 2 de maig a les 20:00 pels finalistes de la Copa Balear 2015, per la resta el dimarts 3 de maig a les 20:00 h a www.elitechip.net
CATEGORIES
: per a participants entre 15 i 17 anys
Junior dones i homes: per a participants entre 18 i 20 anys
Promesa dones i homes: per a participants entre 21 i 23 anys.
Sènior dones i homes: per a participants d'entre 24 i 39 any
Veterà dones i homes : per a participants d'entre 40 i 49 anys
Master 50 dones i homes: per a participants d'entre 50 i 54 anys
Master 55 dones i homes: per a participants d'entre 55 i 59 anys
Màster 60 dones i homes: per a participants de més de 60 anys

Premis pels tres primers classificats de la general i pels guanyadors de les diferents categories, que no seran acumulables.

Premi especial Pep Terrassa al millor corredor local, masculí i femení.

Tots els participants tindran un recordatori de la cursa.

S'oferiran 330 places.

No hi haurà cap llista d'espera. En qualsevol cas, el mateix dia de la cursa, quan acabi el procés de retirada de dorsals, i sense cap compromís per part dels organitzadors, si hi ha places lliures s'oferiran als corredors que se hagin presentat a la taula dels dorsals, just abans del breafing.

Si per qualsevol circumstància el corredor inscrit no pot participar a la cursa, ha d'enviar un mail informant de la incidència a la Federació Balear de Muntanya i Escalada, amb còpia a Elitechip i al club organitzador. Només se retornarà el 70% de la inscripció. Per retornar els doblers de la inscripció serà necessari el corresponent certificat metge o equivalent. Si no és així, no se retornarà.

NO SE CONTESTARÀ A CAP QÜESTIÓ PEL FACEBOOK, TOTES LES QÜESTIONS QUE NO SE CONTEMPLIN AL REGLAMENT, ES PODEN ENVIAR AL MAIL: curses@ermassets.org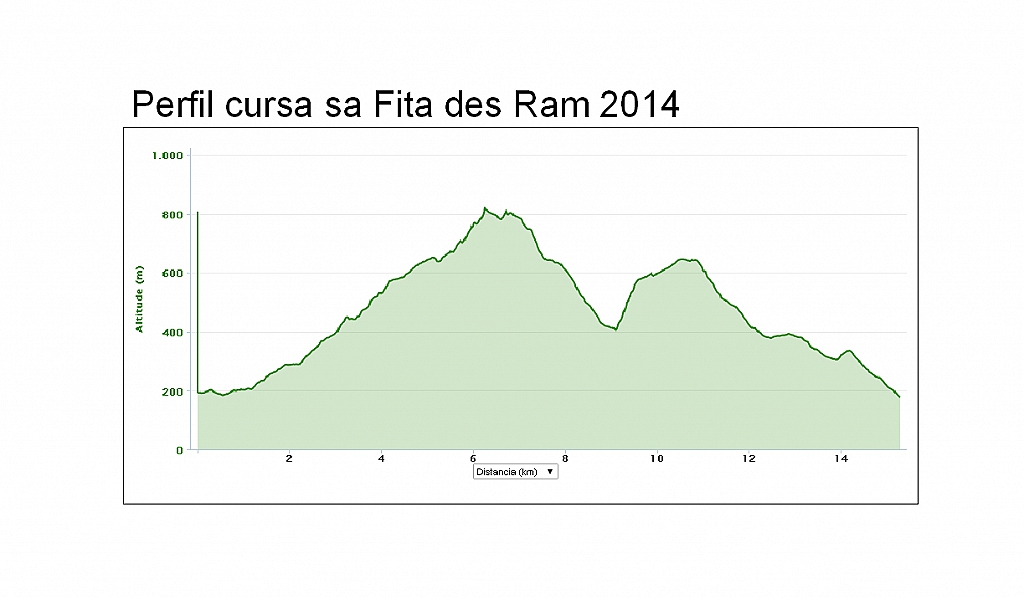 Warning Elitechip Queries!
Elitechip is not constantly checking Facebook conversations. If you have any questions or queries regarding the competition or other issue, please use the
Contact Form
so we can reply you in the shortest possible time.