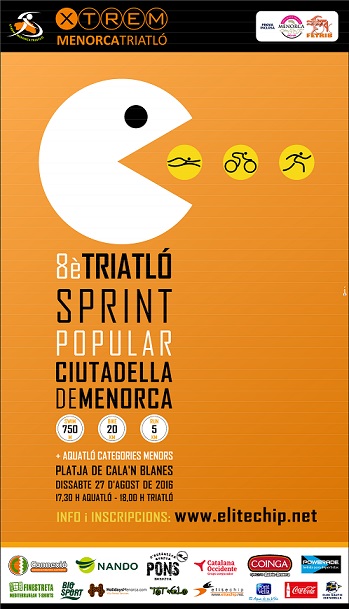 DISTÀNCIES: (Aproximades)
750m. de natació (Platja de Cala en Blanes)- 20 km. de ciclisme. (Carretera) 5 km. de cursa a peu.
Horaris
17:30 Aquatlo Infantil
18:00 h Triatlon Sprint
CATEGORIAS AQUATLO
Pre-Benjami - 7-8 Anys
Benjami - 9-10 Anys
Alevín 11-12 Anys
Infantil 13-14 Anys
CATEGORIES TRIATLÓ:

Cadet. 15- 17 anys
Júnior . 18- 19 anys
Sub 23. 20- 23 anys
Absolut 24- 39 anys
Veterà 1 40- 49 anys
Veterà 2 50- 59 anys
Veterà 3 60 anys o més
(Anys complerts a dia 31 de Desembre)
EQUIPS:
Equips relleus femení - Equips relleus masculí - Equips relleus mixtes
PREUS DE L'INSCRIPCIÓ:
-Individual federat 18€. - Individual no federat 23€. Equips relleus 35 € per equip - + 3 € lloguer de xip.
Fora de termini (25-ago-2016): + 5 €
MEDALLA INDIVIDUAL: Als tres primers de cada categoria.
EQUIPS: Als tres primers equips (puntuen els tres primers temps)
EQUIPS RELLEUS: Als tres primers equips (poden estar formats per 2 o 3 persones, homes o dones indistintament, que no estiguin inscrits a individual) Als tres primers masculins, femenins i mixtes.
Més Informació: menorcatriatlo@hotmail.com
TALLS DE CARRETERA: Amb motiu d'aquesta competició el trànsit estarà tallat per motius de seguretat el dia de la cursa de les 18 a les 19.30 hores en els següents trams: Ronda Nord Rc1 de Ses Tres Alqueries fins el Camí de Sa Farola, tot el Camí de Sa Farola i la Ronda de Sa Punta fins a la Rotonda de la Carretera de Torre del Ram.
Warning Elitechip Queries!
Elitechip is not constantly checking Facebook conversations. If you have any questions or queries regarding the competition or other issue, please use the
Contact Form
so we can reply you in the shortest possible time.