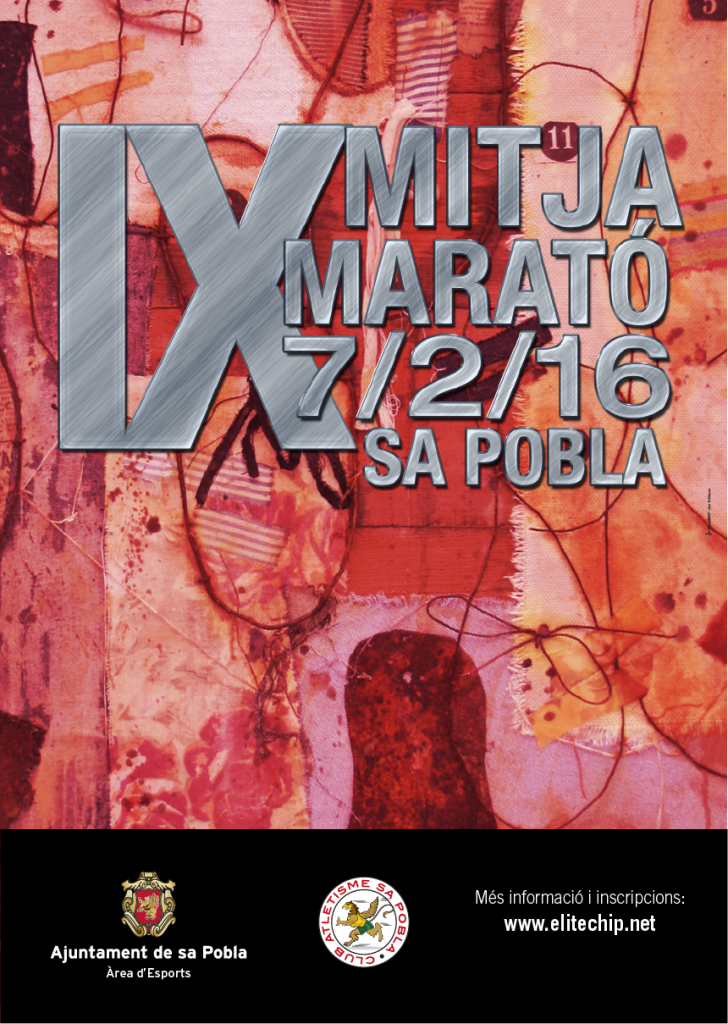 IX Mitja Marató de Sa Pobla
07-Febrer-2016
Lloc de sortida i d'arribada: Parc de Can Cirera Prim (Entrada carretera de Pollença)
Hora de sortida: A les 10:00h
Fins el 2 de febrer de 2016: 15€ + 3€ per lloguer de xip
Fins el 5 de febrer de 2016: 18€ + 3€ per lloguer de xip
Dies 6 i 7 de febrer de 2016: 30€ + 3€ per lloguer de xip
El xip és obligatori per participar a la cursa i s'ha de tornar una vegada acabada la cursa.
Recollida de dorsals: Els dorsals es podran recollir al Parc de Can Cirera Prim:
Dissabte, 6 de febrer de 2016 de les 11:00h a les 14:00h
Diumenge, 7 de febrer de 2016 de les 07:00h a les 09:00h
Obsequis: Al retirar el dorsal cada atleta varis obsequis: porta xip + porta dorsal + botella pinya zumiclub + sac de patates.
Temps límit: A les 2:30 hores de l'inici de la competició es tancarà el control de la cursa.
Avituallaments: Aigua i beguda isotònica en els quilòmetres: 5, 9, 13 i 17. A l'arribada hi haurà fruita, beguda i menjar sòlid.
Hi ha servei de guarda-roba i de dutxes.
Warning Elitechip Queries!
Elitechip is not constantly checking Facebook conversations. If you have any questions or queries regarding the competition or other issue, please use the
Contact Form
so we can reply you in the shortest possible time.