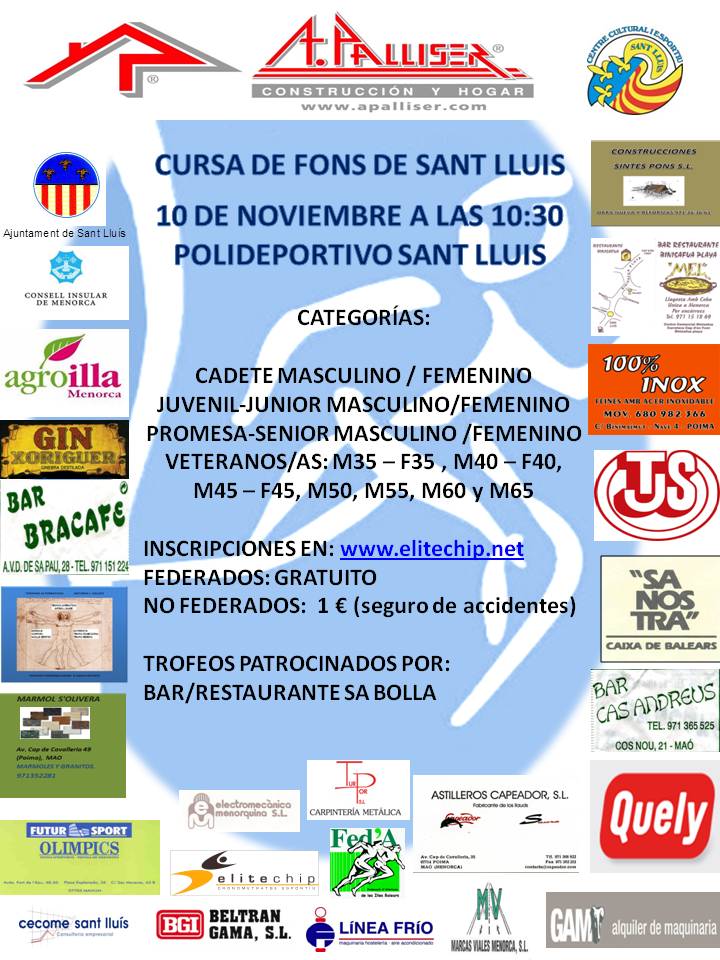 CURSA DE FONS DE SANT LLUIS
Organitza: A.Pallicer CCE Sant Lluís - Atletisme
Data i hora: Dissabte 10 de novembre a les 10.30 hores
Sortida: Poliesportiu Municipal de Sant Lluís
Inscripció: Gratuïta per a Federats, a través de la web www.elitechip.net o presencialment al poliesportiu de St. Lluís de 9.00 a 9.45h del mateix dissabte, dia de la cursa.
Els no federats tindran que abonar 1€ en concepta d'assegurança
Premis per als tres primers classificats de cada categoria CATEGORIES
Categories: Cadet, Juvenil, Promesa, Senior i Veterans:
CADET MASC I FEM
JUVENIL-JUNIOR MASC I FEM
SENIOR MASC I FEM
VETERANS M-35 MASC I FEM
VETERANS M-40 MASC I FEM
VETERANS M-45 MASC I FEM
VETERANS M-50
VETERANS M-55
VETERANS M-60
VETERANS M-65
Warning Elitechip Queries!
Elitechip is not constantly checking Facebook conversations. If you have any questions or queries regarding the competition or other issue, please use the
Contact Form
so we can reply you in the shortest possible time.