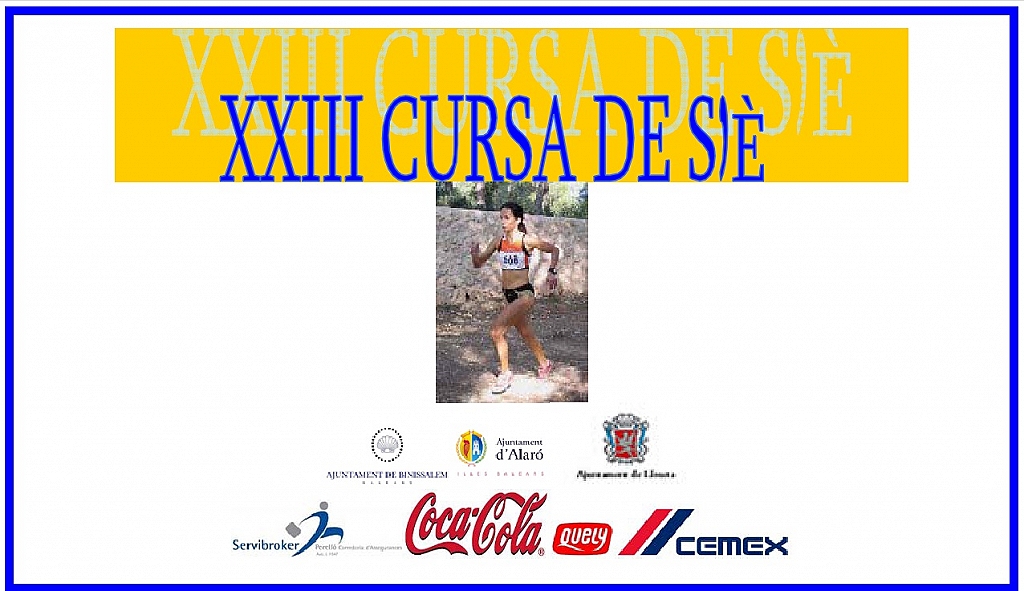 IMPORTANT : NOU HORARI DE SORTIDA 10:30 H
INSCRIPCIONS ON-LINE TANCADES
ORGANITZADA PELS AJUNTAMENTS DE BINISSALEM,ALARÓ I LLOSETA. La cursa tindrà lloc el pròxim dia 26 de desembre de 2011, a partir de les 10:30 h. Es seguirà el recorregut marcat per l'organització, sortint des de Binissalem (Parc cobert, carrer Sa mostra) neutralitzada fins al camí de sa bresca en direcció Alaró, passant per dins el poble d'Alaró i sortint direcció Lloseta,per continuar direcció Binissalem on acabarà la cursa (Parc Cobert al Carrer sa mostra).
La prova comptarà amb servei d'ambulàncies i d'equip mèdic.
Tots els corredors estaran coberts per una assegurança d'accidents.
LA INSCRIPCIÓ DELS PARTICIPANTS ES PODRÀ FER A TRAVES DE LA PLANA www.elitechip.net .Pels corredors que no tenen chip en propietat els drets d'inscripció costen 9 euros, pels que si en tenen costen 6 euros. LES INSCRIPCIONS S'HAN DE FORMALITZAR ABANS DEL 24 DE DESEMBRE . EL DIA DE LA CURSA NO ES FARAN INSCRIPCIONS.
RECORREGUT-ITINERARI (veure reglament de la prova)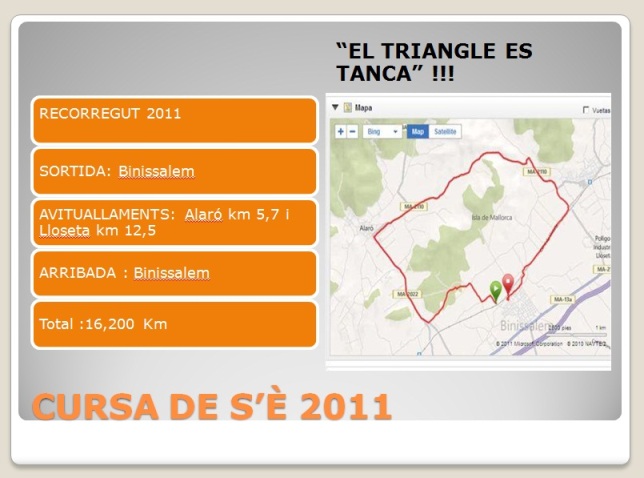 CATEGORIES I PREMIS
SENIOR ( de 20 a 40 anys)
Masculí 150,100,60
Femení 150,100,60
• VETERANS (Més de 40 anys)
Masculí 80,60,40
Femení 80,60,40
• LOCALS (Empadronats a Binissalem,Lloseta o Alaró)
Masculí 80,60,40
Femení 80,60,40
• JUNIOR (de 16 a 19 anys)
Masculí 60,40,20
Femení 60,40,20
• MARXA (sortida del punt entremig de la cursa)
Masculí 60,40,20
Femení 60,40,20
• ESPECIAL ( atletes que sols volen fer la meitat del recorregut) No opten a premi.
PER INFORMACIÓ MES DETALLADA VEURE EL REGLAMENT DE LA PROVA ANNEXA AL DOCUMENT
Warning Elitechip Queries!
Elitechip is not constantly checking Facebook conversations. If you have any questions or queries regarding the competition or other issue, please use the
Contact Form
so we can reply you in the shortest possible time.