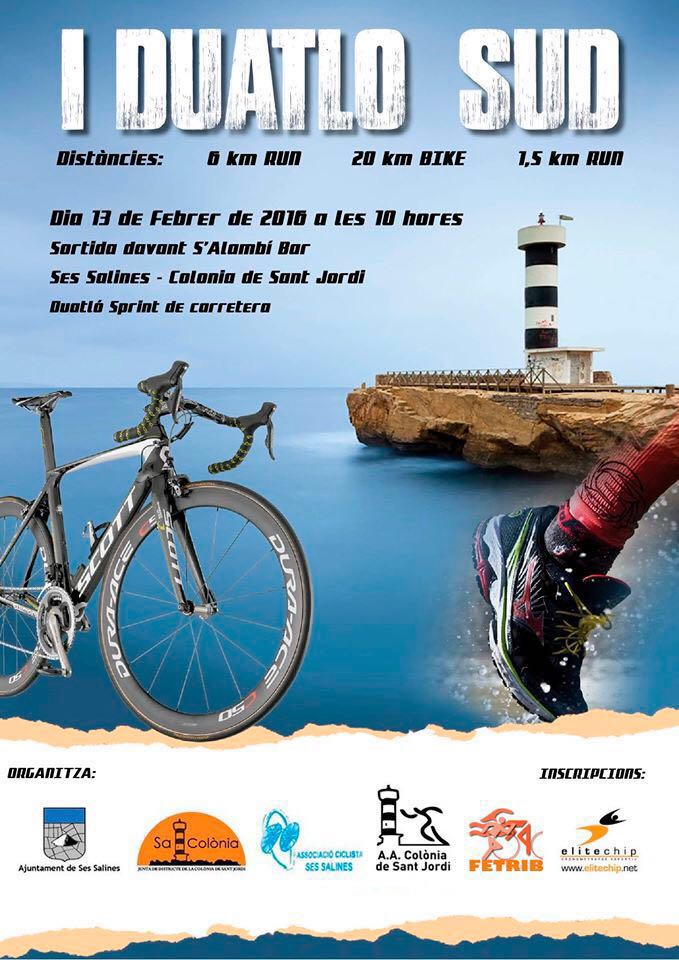 I Duatló Sud
Colonia Sant Jordi - Ses Salines
Dia 13 de febrero del 2016.
Hora 10:00 h
La prueba arrancara a las 10 de la mañana corriendo desde Ses Salinas a la Colonia de Sant Jordi, allí se cogerá la bici hacenciendo el Circuito / Colonia Sant Jordi -Ses Salinas-Colonia Sant Jordi y terminan en la Colonia Sant Jordi corriendo 1,5 km.
las categorias seran:
junior
Absoluto
sub 23
vet-40
vet-50
vet-60
locales (tres premios absolutos en masculino y en femenino)
Habrá un sorteo de regalos entre los participantes.
Importante!!! habrá un bus una hora antes desde la Colonia de Sant Jordi donde estarán las bicis hasta la salida en Ses Salinas.
Horario de salida: 08:30 a las 9:30 h
Precios:
80 primeros inscritos: 15,00€
no federados: + 5,00 €
A partir del 81 hasta el 200: 18,00 €
Equipos de relevos: 25,00 €
habrá camiseta para los 120 primeros inscritos
Warning Elitechip Queries!
Elitechip is not constantly checking Facebook conversations. If you have any questions or queries regarding the competition or other issue, please use the
Contact Form
so we can reply you in the shortest possible time.