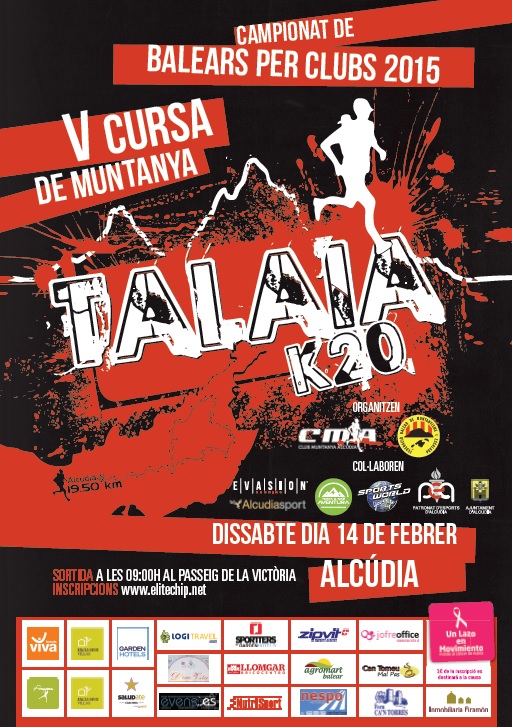 Tambíen con la inscripción se va a poder realizar una donación a l'asociación ULEM. En la entrega de Trofeus se va a realizar la donación de la recaudación para ULEM.
Atencion!!
Informació Important!!!!
hora de sortida de la prova 09:30 h.
Els dorsals es poden anar a recollir a la seu de la Federacio de Muntanya avui dijous dia 12 i dema divendres dia 13, l'horari es de les 17:00 h a 19:00 h.
La cursa donarà Inici a la Avinguda Princeps d'España d'Alcúdia, just al Costat del Patronat Municipal d'Esports. (igual que els primers anys)
També recordam que a partir d'avui ja no s'accepten mes baixes, degut a que ja s'ha de preparat tot per la cursa.
Ànims!!!! vos esperam a tots/es!!
Atención!!!!
Se recuerda que todos los participantes deberán presentar DNI o Licencia Federada, en caso de no llevarla, no podrán participar en la prueba.
Només es poden inscriure Federats
Solo pueden inscribirse atletas Federados
Warning Elitechip Queries!
Elitechip is not constantly checking Facebook conversations. If you have any questions or queries regarding the competition or other issue, please use the
Contact Form
so we can reply you in the shortest possible time.